Scotts Spreaders, Sweepers & Sprayers (7 items found)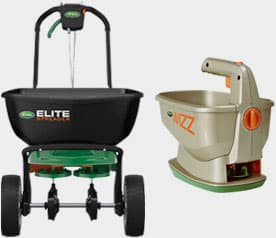 Designed for lawns big and small, Scotts® spreaders help you do the job easier and faster. Great for applying seed, lawn food and other products.
Get the job done faster and with less effort with the right Scotts spreader or sprayer from Ace Hardware. Apply grass seeds, pesticides, fertilizer or soil conditioner to keep your lawn looking healthy and green, season after season.
Use our helpful guide to learn about the different types of Scotts sprayers and spreaders to choose the perfect option for the size of your yard.
Should You Spray it or Spread It?
Choosing between a sprayer or a spreader will largely depend on the type of product you're applying to your yard. Here's a basic overview about the key differences between the two to help you make the right decision.
Scotts Spreaders
If you're applying dry products like seed or granular fertilizers, use a Scotts spreader to disperse a large amount of product over wide areas. Simply pour the product into the spreader's bin or hopper and adjust the dial to decide how much product you'll want to distribute as you push.
Scotts Sprayers
If you're applying liquid products like weed controls or herbicides, Scotts sprayers are a good bet. These hose-end sprayers siphon liquid up from the container and mix the product with the right amount of water as it passes through the nozzle.
Types of Scotts Spreaders
Whenever you're applying any kind of dry treatment to your lawn, a Scotts spreader is a must-have piece of equipment. Although there are many types of lawn spreaders available, most fall within these categories:
Scotts Broadcast Spreaders
A Scotts broadcast spreader will make lawn maintenance a breeze if you're applying a product over wider areas. Broadcast spreaders quickly and efficiently distribute product, making them ideal for large lawns and landscaping areas.
Scotts Drop Spreaders
If accuracy is your main priority, a Scotts drop spreader causes the material to fall onto the lawn at a designated application width. Drop spreaders make it easier to control the areas you treat.
Scotts Handheld Spreaders
A great choice for smaller projects like seeding or repairing bare spots, handheld spreaders offer effortless mobility. These compact, crank-style devices also provide greater accuracy than broadcast spreaders.
How to Use a Scotts Spreader
Using a spreader is relatively easy, although you should always follow the instructions for your specific make and model. Here are some general tips to help you get started:
Read the label on the back of the product you're working with to identify and set the appropriate distribution rate and pattern.
Load the spreader on a flat surface like a driveway or walkway.
For best results, move at a steady pace whenever you're applying the material.
Each time you make a turn or stop, close the opening of the spreader.
Get that healthy, attractive lawn you desire by shopping the collection of Scotts sprayers and spreaders at Ace Hardware. Find all the supplies you'll need to maintain your yard, such as
fertilizers
,
grass seed
and
weed control products
, at your local Ace.