Scotts Weed & Plant Control (91 items found)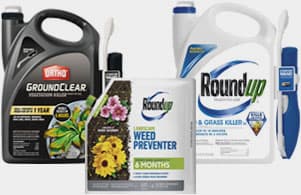 Prevent and eliminate weeds from your lawn and flower beds with Roundup® and Ortho®. From accurate precision sprayers to granules for spreading, we've got you covered.
Weeds can be a major problem for any homeowner. Prevent annoying issues like dandelions, clumps of crab grass and a sea of green moss with Scotts weed killer from Ace Hardware. Scotts weed control for lawns prevents weeds from setting seed or taking root, to help you curate a healthier and more beautiful lawn.
From granules to precision spot weed sprayers, getting rid of unwanted weeds is easier than you might think. Read on to learn more about how to use Scotts weed control products to get the best results for your lawn.
When Should You Apply Weed Killer?
The right Scotts weed killer can improve the health and overall appearance of your lawn by preventing weeds from taking over. The best time to use weed control products is in the spring to stop weeds during their pre-growth stage. Since weeds are particularly vulnerable during the colder winter months, apply Scotts weed control during the fall, too.
Different weather patterns and conditions can impact a weed killer's effectiveness, so it's important to know the ideal conditions for applying Scotts weed control products.
During mild weather: If you apply the product during milder weather, there's less risk of wind blowing the weed killer away from your target areas.
When rain is not expected: Rain can dilute a weed killer, so it's best to apply the solution if there isn't a chance of rain for at least six hours.
When temperatures are moderate: Scotts weed control products are most effective when applied in warmer weather, but are less effective in extreme hot or cold temperatures.
Liquid vs. Granular Scotts Weed Control Options
When shopping for Scotts weed control options, you'll come across two products: liquid and granular formulations. Both types have their perks, but one option might work better for your yard than the other. Below is a basic overview between liquid and granular products.
Scotts Spot Weed Control for Lawns
Popular liquid spot weed killers allow homeowners to directly target unsightly weeds on their driveways, sidewalks and gardens. These weed control products are easy to use and can be applied when weeds are wet or dry, making them an incredibly versatile option. Be sure to ap