Scotts Lawn Fertilizer (65 items found)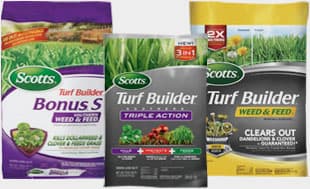 Give your lawn the nutrition to grow with Scotts®. From our famous Turf Builder® Lawn Food with weed control to seasonal fertilizers, we have the lawn care products you need to keep your grass green and healthy all year long.
Scotts Fertilizer
Feeding your lawn properly can make a big difference in its health and appearance. No matter what kind of grass you have or what your lawn care needs are, there's a Scotts fertilizer that's right for you. Shop Ace Hardware to find a range of top-rated Scotts lawn food products to grow and maintain your yard.
Scotts Lawn Food Products
Scotts lawn feed comes in a variety of types and sizes to help your yard look its best. Use this helpful list to determine which Scotts lawn food products you need:

Starter Fertilizer: Scotts starter fertilizer products are specially designed for newly planted grass. This starter food delivers vital nutrients to the seedlings, accelerating their development for up to 35 percent faster growth and 75 percent thicker grass.
Turf Builder: Scotts Turf Builder is a product that improves water retention and nourishes grass with the food it needs to thrive. Turf Builder products are available in different varieties to suit the type of grass that you have.
Crabgrass Preventer with Fertilizer: If crabgrass is a problem for your lawn, consider Scotts crabgrass preventer with fertilizer. These products not only kill and prevent crabgrass, but it also provides your lawn with vital nutrients with controlled-release feeding that lasts up to eight weeks.
Four-Step Fertilizer System: For maximum nutrition, feed your grass with Scotts four-step fertilizer system. Each step should be applied at a certain time throughout the year to ensure your lawn gets the nutrients it needs in every season.
Weed and Feed: This is a product that combines lawn food with a powerful weed killer, so you can nourish your grass while eradicating clover, dandelion and other types of weeds.
Summerguard: Scotts Turf Builder Summerguard is a fertilizer that's made for use in the summer. It strengthens your lawn's resistance to scorching summer temperatures and gives it the nutrients it needs for optimum growth. Summerguard products are even available with insect control to keep summer pests at bay.
Winterguard: Scotts Turf Builder Winterguard should be applied in late fall, after all the leaves have fallen from the trees. This product helps build strong roots, improves water retention and prevents weeds for fuller, healthier grass next spring.
Nurture Your Grass with Top-Rated Scotts Products

In addition to fertilizer products, Scotts also has a variety of grass seed that's great for starting a new lawn or thickening your existing lawn. Some of the grass seed is enriched with Scotts Turf Builder lawn fertilizer to help you achieve healthy, new lawn growth with little effort. Whether you like an all-in-one product or want to apply each step separately, Scotts has you covered. While you're here, shop other Scotts essentials like spreaders to make applying lawn food a quick and easy process.

Shop the Best Scotts Lawn Food at Ace

If you need help navigating the lawn care products available at Ace, we'll help make it easier. Our helpful staff has the expert tips and advice you need to achieve great results with your grass. Head to Ace or shop online to find the Scotts fertilizer that's right for your lawn. We offer free delivery and free store pickup, so you can enjoy a hassle-free shopping experience.